services
strategic support
At Libéo, we apply the principles of design thinking to help you implement integrated digital strategies that will simplify your digital transformation. It's that simple!
from design thinking to design sprint
Design thinking is a way of structuring innovation that fosters collaboration between teams and makes it possible to create solutions that revolve around users. Since 2016, we have been using a more applied version: design sprint.
Design thinking is the ingredients,
 Design Sprint is the recipe.
using design sprint to innovate and collaborate
Design sprint is based on the Google Venture methodology and is a practical process for solving problems. Over 5 days of workshops, our facilitators will help you to gain a thorough understanding of your business challenges and prioritize your digital projects according to your goals. These creative workshops also provide a space for collective intelligence and innovative ideas to emerge.
Design sprint is much more than a method; it's actually a work philosophy that results in well-designed digital strategies and solutions that reflect the reality of your organization.
In other words, everyone should try it!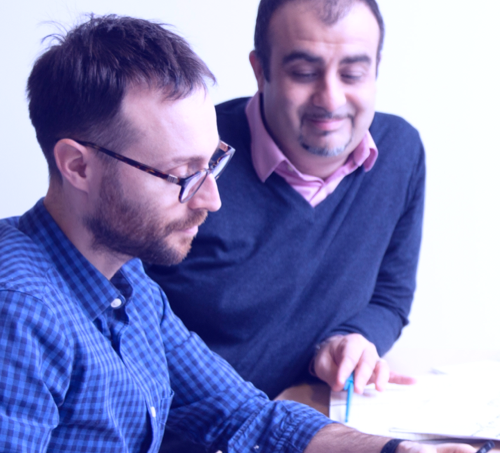 design sprint objectives
In the context of a digital transformation or pure innovation, our design sprint approach can help you to:
discover new opportunities,
provide a framework for innovation through prototyping and user testing,
fine-tune your analysis of your business context, and
focus on the point of view of your users.
benefits of design sprint
A pure innovation approach and a digital transformation both have different needs. That's why our facilitators have come up with 2 complimentary formulas based on what your goals are and where you are in your digital transformation.
design sprint for innovation
A clear, shared vision
A tested, validated prototype
User testing and results
strategic design sprint
A clear, shared vision
Strategic alignment
Project planning
A realistic, specific timeline
An overall budget for the projects
what does a design sprint look like?
A method operates through a series of steps. Here is the typical route of a design sprint for innovation.

Going Further with the
Design Sprint Academy™
Libéo is the official Canadian partner of the Design Sprint Academy in Berlin. Thanks to this credential, our facilitators are able to provide training sessions to introduce you to design sprint.
You will learn to how to implement new practices that promote collaboration within your team and quickly identify challenges and find innovative solutions while minimizing risk. 
Write to us to find out about our upcoming training sessions!