The Libéo approach
Using a unique combination of methodologies and approaches that have been tested and proven over the last two decades, Libéo has greatly simplified the process of creating complex, custom digital products.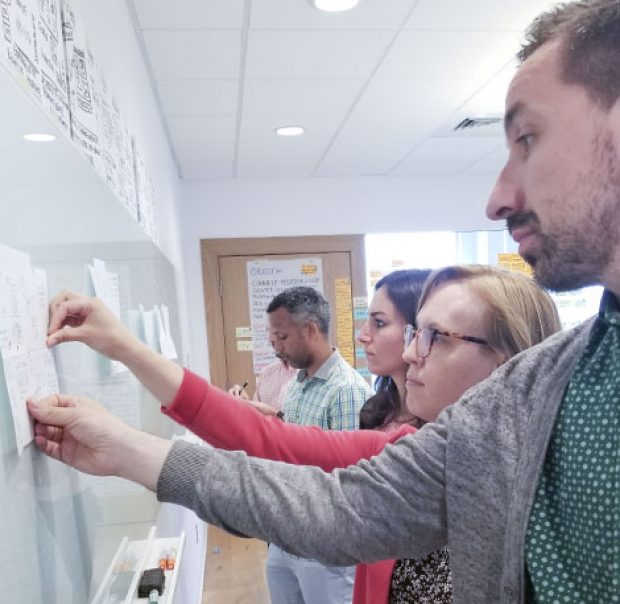 We'll bring your idea to life
Idea
Co-designworkshop
Productroadmap
Agiledevelopment
Newproduct
Your digital product will be tailored to your specific business requirements and the needs of your users. Our unique approach is based on 25 years of experience in the digital sector. We take an abstract idea and turn it into a concrete, effective and simple product that accounts for your complex business requirements.
The life cycle of a custom digital product
Idea
1
Vision
Vision
We dive deep into your vision, your business context and your industry.
2
Ideation
Ideation
Together, we define the scope of the opportunity and come up with possible solutions.
3
Validation
Validation
We quickly test our hypothesis and aren't afraid to be wrong. Fail fast.
Creation
4
Backlog
Backlog
Together, we prioritize the features that will be implemented in the next phase of your digital product.
5
Development
Development
The products we develop are effective, durable and meet the highest industry standards.
6
Measurement
Measurement
We continuously measure and analyze the product in order to unlock its full potential.
Technologies
Libéo has been advocating for open source technologies since 1996. In addition to being involved in the open source community, we use these technologies to create digital products with no proprietary license.
Our stack changes as new technologies emerge and open source communities become more stable, but one thing is certain—we'll keep using open source technologies as long as Libéo exists!

Launch of a digital product: application, custom software, B2B/B2C e-commerce, large-scale web platform, connected object
Integration of a new business model
Implementation of continuous development processes
Adoption of best practices in software development
Strategic planning for your organization
Talk to an expert
We're here to listen! 👂
We're not only passionate about technology—we love people too. We like to call ourselves the Mini-Wheats of the digital sector, because we have an exciting, frosted side and a serious side! If you'd like to discuss an idea for your next digital project, give us a call at 1-877-969-8324. Or, if you're on the introverted side, enter your contact information and we'll get back to you right away.
Great Place To Work
A long-term partnership
Working with Libéo means being able to count on a team that will accompany and advise you throughout the life cycle of your digital product. Just like our expertise, we like to build strong and lasting relationships.
Talk to an expert

forA long-term partnership