Client
Konek.ai is a platform that centralizes hotel technology. This innovative solution includes Wi-Fi, interactive television, television programming and telephone services, in addition to providing the hotel's internet connection. Konek.ai is a scalable platform that is available for rent.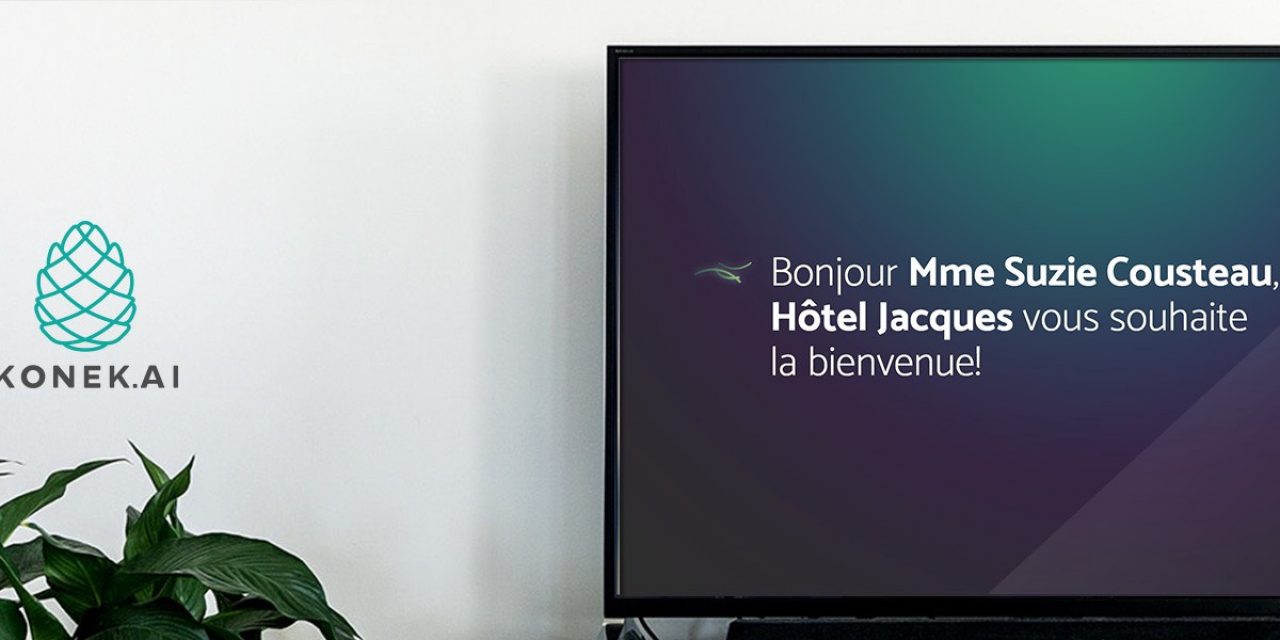 Challenge
Centralize media services in the hotel and tourism industry using Internet of Things (IoT) technology.
Solution
A central platform for a hotel's technology that groups together Wi-Fi, telephone and television services.
Results
Konek.ai has already been rolled out in many hotels in Quebec and makes it much easier to manage a technology ecosystem. Its scalability means that clients can adapt to new market realities in the blink of an eye.
Context
The Konek.ai concept is actually quite simple. In most hotels, there are separate systems for each service, including television, radio, Wi-Fi, advertising, management, etc. That's what Konek.ai changes—everything! And it's all thanks to the Internet of Things.
Konek.ai : A little black box that makes a big difference
Konek.ai is a platform that centralizes hotel technology, including Wi-Fi, television and telephony. Its goal is to revolutionize the hotel and tourism industry by combining data and technology. By bundling essential technology services, Konek.ai allows hotels to:
Achieve cost savings
Gain access to guest data, which is currently in the hands of online travel agencies
Acquire new tools to better serve their customers
Konek.ai functions as a hub that provides hotels with new ways to serve their customers. This is possible because Konek.ai can be used to customize interactions with televisions, Wi-Fi, VoIP, audio and the hotel Property Management System (PMS) from anywhere in the hotel. Thanks Internet of Things!
By reducing the costs associated with these services, Konek.ai makes hotels more competitive in a context where online travel agencies (Expedia, Priceline, etc.) are eroding profitability but continuing to gain market share. Simplifying and improving hotel connectivity while helping to build customer knowledge and loyalty will also have a major impact on the destination's reputation. That leads us to the main point of the idea—giving hotels back control over their data. Gaining a better understanding of their guests gives hotels the opportunity to customize their services, adapt them more effectively and become more competitive. Cost savings and data collection means that Konek.ai is an innovative and indispensable tool for a large part of the hotel industry.
In addition, speaking of the Internet of Things, Konek.ai can also take over the home automation system in a hotel. That means that there are many years of innovation ahead for the hotel industry!
This is just the beginning.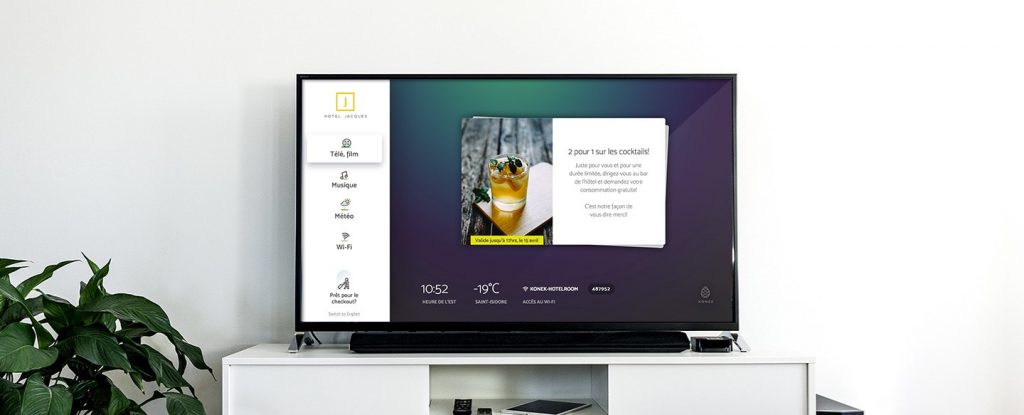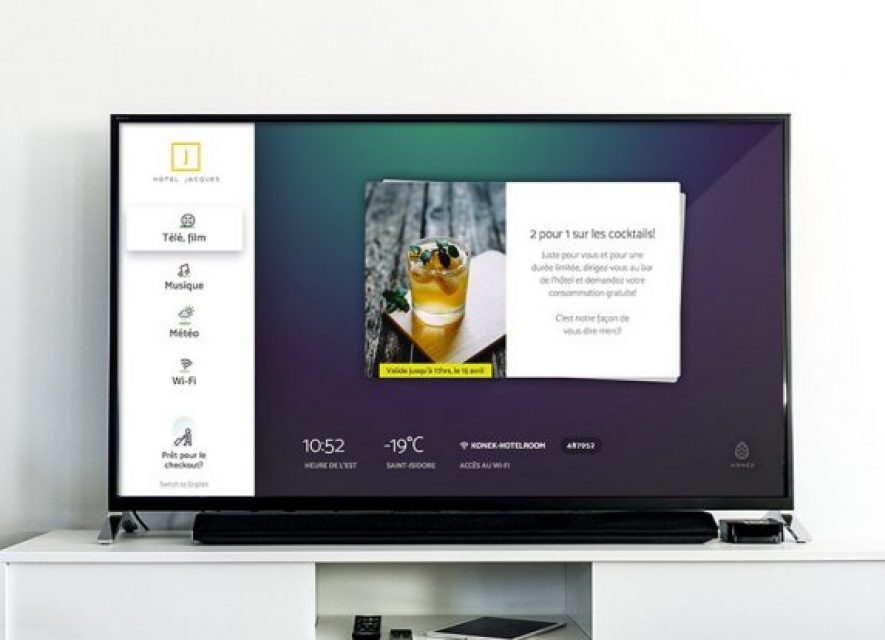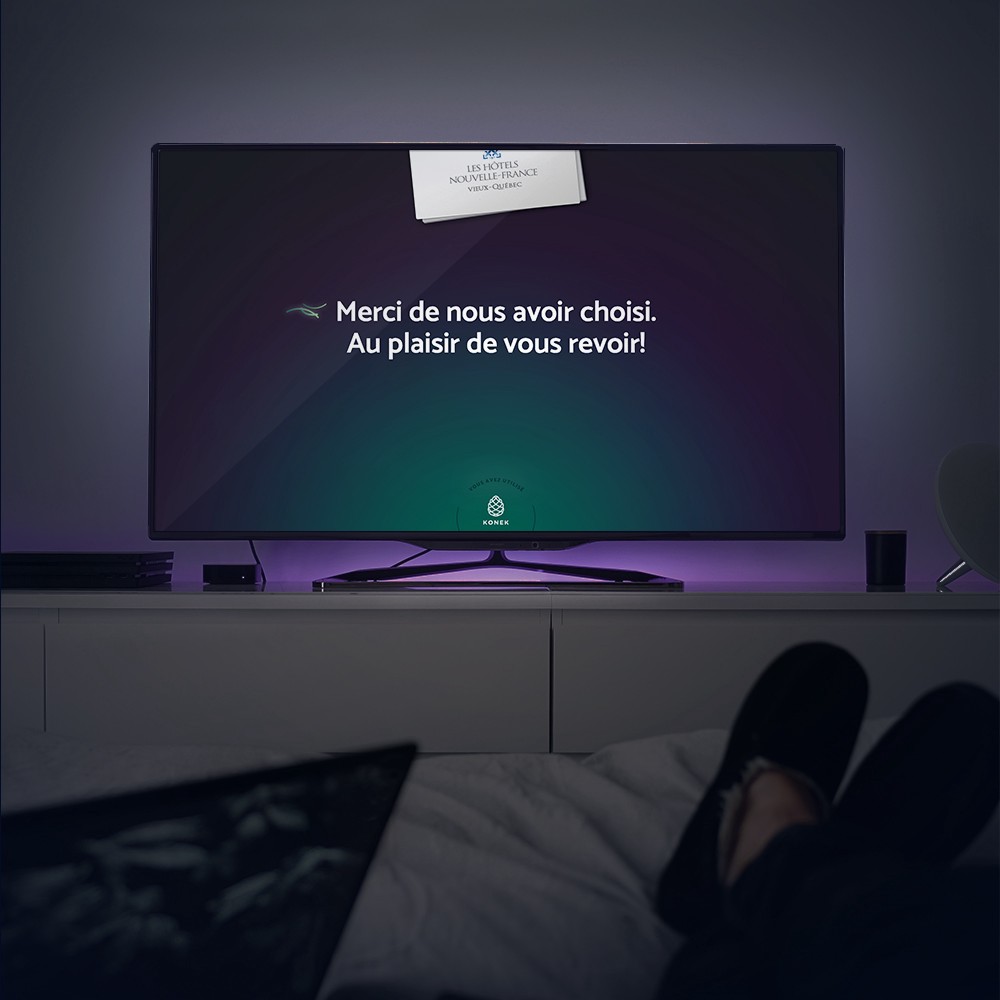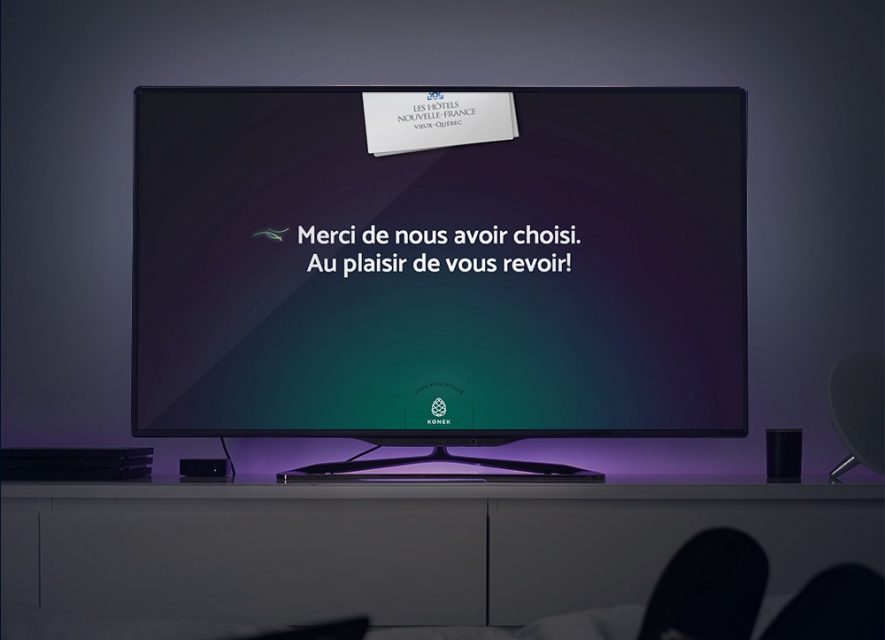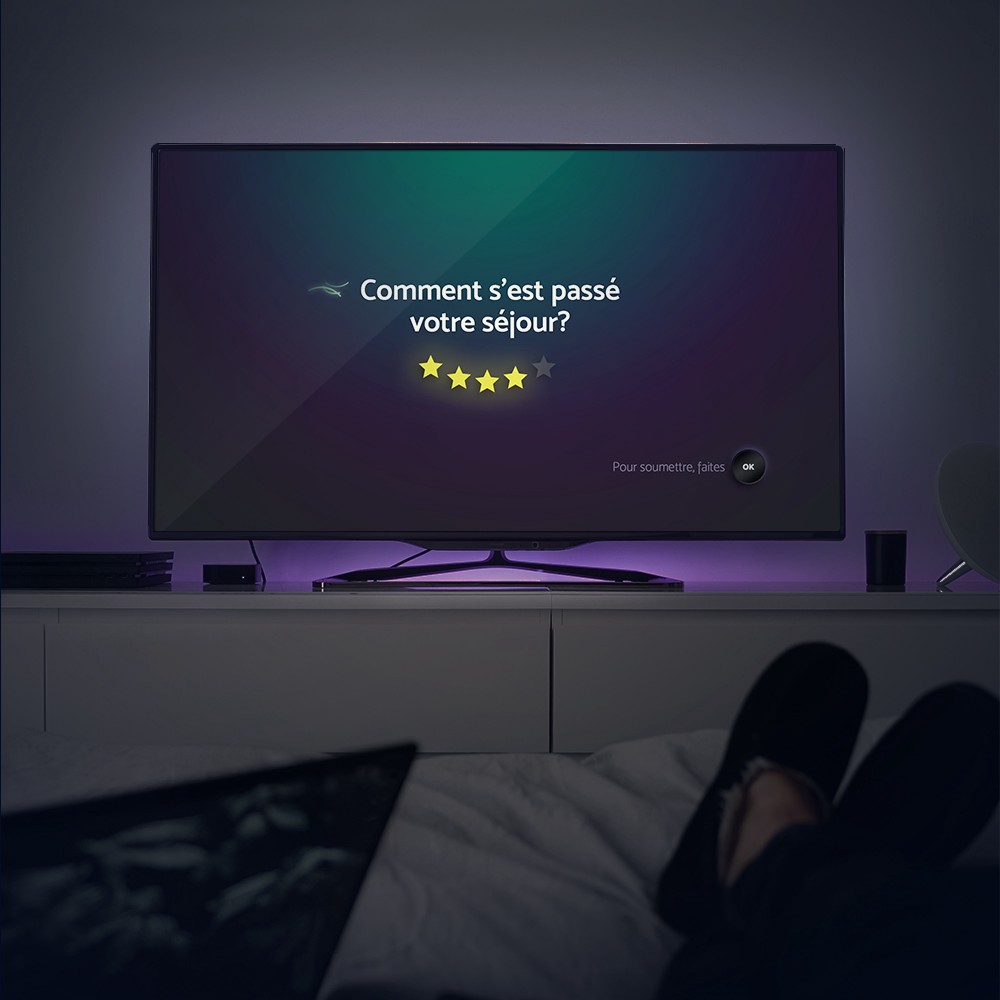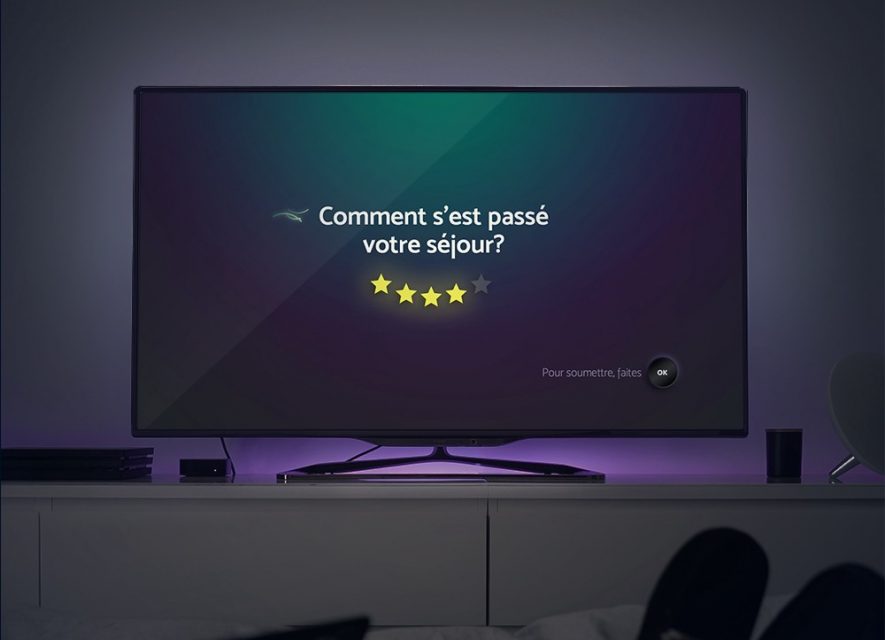 Konek.ai is already in operation
Konek.ai has already been rolled out in over 2,000 rooms and the results are extremely encouraging. We are continuing product development using an iterative process and our objectives are ambitious (1,000 hotels by 2024)!
The future
Konek.ai is for hotels that want to give their guests a modern experience. Once the IoT box is in the room, it has a wide range of possible uses. Here's what our product development roadmap looks like:
Allows users to listen to radio and eventually video on demand
Connects the room to the guest's mobile phone using an application
Broadcasts customized special offers live
Connects the room to the hotel PMS for seamless management
Displays the Konek.ai interface in the guest's language upon arrival
Provides VoIP telephony in the room
Manages room cleaning
Now, let's get creative: imagine a guest who can easily control room lighting, temperature, access and mood—straight from their mobile phone. That's right. We're creating the hotel room of the future at a reasonable cost using a system that's easy to set up.
A Libéo initiative from start to finish
From the idea phase straight through to programming and selecting technical components, Konek.ai was fully created by our team. We even held a 3D printing workshop to manufacture the boxes! The printers continuously make the parts needed to assemble a Konek.ai box.
When we tell our partners that Libéo specializes in technology and that we know how to apply our talent to any challenge—well, that's the proof! Our team optimized the 3D printers, found the correct chips and programmed them and designed the Konek.ai box. We even created a business model that is perfectly tailored to the hotel industry! All of this takes time but our team's ability to learn also gives us a major advantage: we can apply the knowledge we acquire from other business sectors when we design solutions. In fact, cross-disciplinary knowledge is essential for innovation.
Konek.ai provides the hotel industry with a unique opportunity to bring leading-edge technologies to customer experience. Over the next few months, we'll optimize the system and roll out new features to everyone who dares to take a step into the future with us!